Beyond Singapore's vibrant city limits lies an area of refinement that intertwines luxury with environmental consciousness. Picture a world where sustainable living meets comfort, where innovative architecture and eco-conscious design converge to create a harmonious haven.
The Reef at King's Dock, a 429-unit waterfront residential development at HarbourFront Avenue jointly developed by Mapletree and Keppel, is set to create an exclusive, tranquil environment within the vibrant Greater Southern Waterfront. This visionary project is designed by Kees Christiaanse, an award-winning architect and urban planner from the Netherlands and is slated for completion by 2024.
Kees and his team from KCAP Architects & Planners have been instrumental in planning and developing this luxury condo, which offers stunning views of King's Dock and Keppel Bay and the promise of a luxurious and premium living experience. As Kees himself puts it, "What is a good living environment for people? It's having a vivid urban architecture with space for interaction. And The Reef at King's Dock has it all here."
The Reef at King's Dock plans to offer more than just the amenities and comforts of luxury living. It aims to achieve this without compromising sustainability. Find out more about this next-generation residential development and how it seeks to redefine eco-luxury living.
Feature #1: Breathtaking, naturalistic views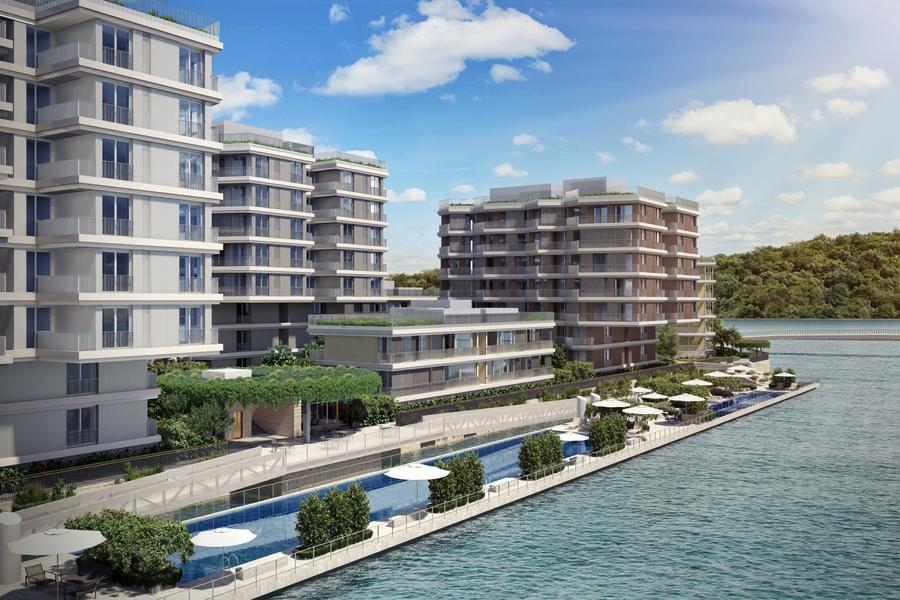 The residential development is segmented into three distinct building types and the interplay of buildings sizes allows for natural ventilation and maximises scenic views. The Courtyard Blocks house apartments with breathtaking views of the sea towards Sentosa Island and Mount Faber.
Alternatively, residents can choose between resort living in a coastal oasis at the Garden Villas or being at the heart of it all at the medium-rise Urban Villas. Regardless of choice, they can expect to have their senses invigorated with nature right at their doorstep, with lush foliage situated at the numerous green roofs, sky decks, and communal gardens around the estate.
The crown jewel of The Reef at King's Dock is its floating deck. Spanning 180 metres, it is the first of its kind for residential developments in Singapore. This floating deck houses an ensemble of swimming pools, providing residents with an immersive experience and a Marine Viewing Hammock where they can glimpse the natural ecology of King's Dock. The hope is that this connection to nature will inspire residents to appreciate and care for the marine biodiversity located right at their doorstep.
We believe that architecture at its best should marry nature with innovative design to enhance our natural surroundings while minimising the impact on the environment. That is why the design and development of the floating deck was carried out with the protection of the existing structure of King's Dock and the preservation of the marine ecosystem in mind.
In consultation with marine biologists, Keppel worked with environmental consulting firm and marine ecology specialist DHI Water & Environment to design the floating deck to encourage the settlement of marine flora and fauna around its concrete base by creating a surface for marine life to encrust on and proliferate. Existing corals were also harvested from King's Dock, grown in a special nursery at Marina at Keppel Bay, and transplanted back to the Marine Viewing Hammock to further enrich the biodiversity of King's Dock.
Feature #2: Modern, sustainable living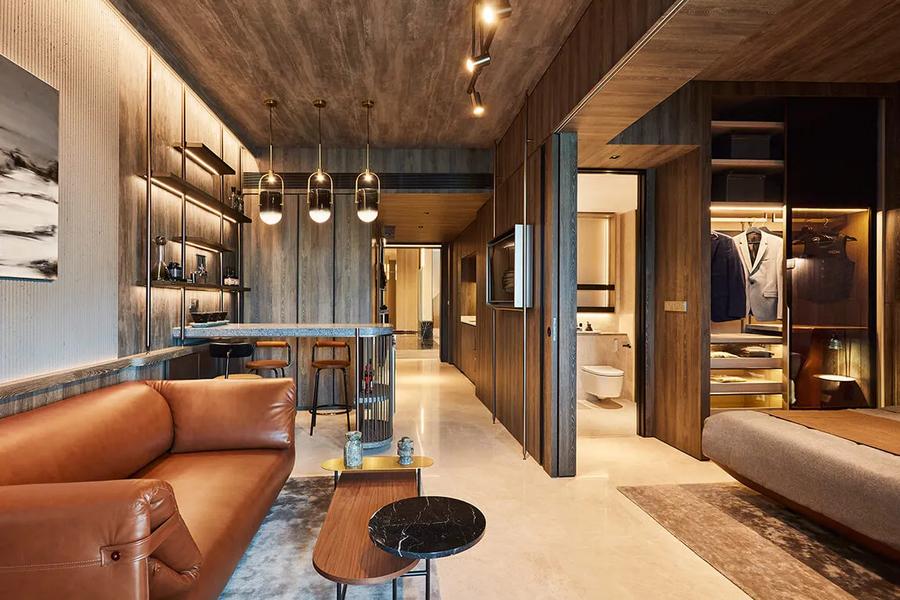 The residential units are oriented for natural coolness, with the facade and balcony screens designed to offer natural ventilation without obstructing the scenic views. Permeable aluminium mesh sunscreens are installed to allow the sea breeze in while keeping out the heat naturally.
Such designs help maintain an ideal room temperature within each unit, reducing the energy consumption for air conditioning. Even when air conditioning is required, eco-conscious residents can rest easy knowing the air conditioning system features a 5-tick energy rating, thus lowering the energy cost and carbon footprint.
Besides the energy-efficient air conditioning system, residents can also enjoy state-of-the-art convenience with smart home devices, such as a smart door lock, smart door bell and intercom system, and motorised screens on their balconies. These smart features extend throughout the estate, with motion sensors incorporated into the facilities' LED lighting design to further save on electricity.
Other aspects of our push for sustainability include harvesting rainwater and combining it with an auto-irrigation system for the landscape, as well as water-efficient fittings and appliances. The waste collection and disposal system has also been carefully curated to encourage residents to recycle, with dedicated recycling chutes at every block and provision of recycling bins in the common areas.
As a result of these efforts, The Reef at King's Dock has been awarded the Building and Construction Authority of Singapore Green Mark GoldPLUS certificate in recognition of its sustainability performance.
Feature #3: One-of-a-kind amenities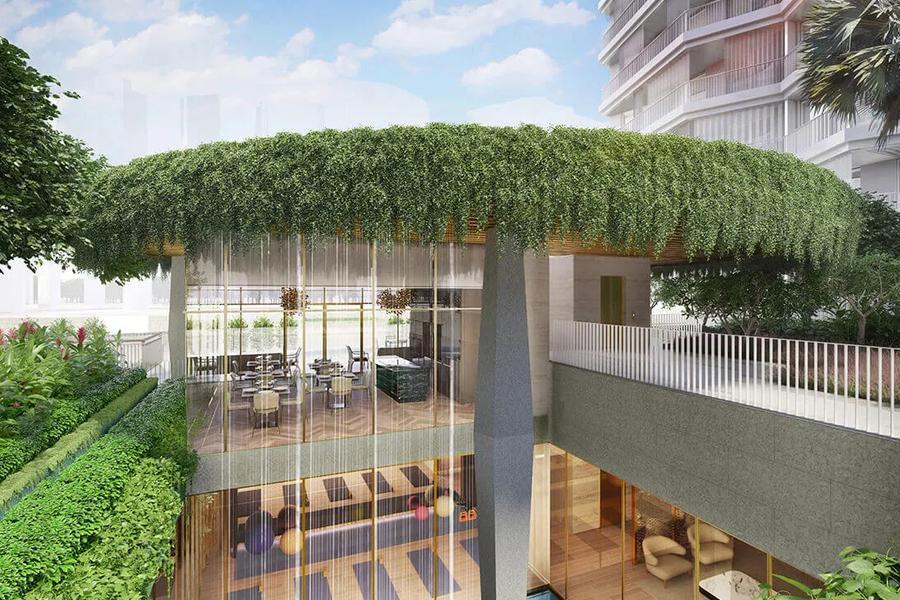 As a premium luxury condo, residents expect one-of-a-kind amenities, and The Reef at King's Dock does not disappoint. As mentioned, the floating deck will feature an ensemble of swimming pools for all ages, from a splash pool for the children to a rejuvenation pool designed for ultimate relaxation. Even if residents are not up for a swim, they can marvel at the fascinating corals and marine life. This is a one-of-a-kind feature in Singapore and a space that children and families will love.
Beyond the swimming pools, families with young children can enjoy quality bonding time at the Kid's Play Zone, which features a wet play area, or Adventure Splash – a dedicated playground for kids to stretch and fine-tune their motor skills. Residents with pets need not feel left out, as there is a garden – Petscape – for them as well.
Additionally, the residential development houses two function rooms – the King's Club and King's Lounge – which are perfect for those looking to host an intimate gathering overlooking the majestic King's Dock. There is also a gymnasium and studio located in the basement of the area, where residents can exercise or practise yoga to the therapeutic sound of cascading water curtain.
Lastly, as an extension to the greenery and landscaping within the residential development, residents will have direct access to the public park next to The Reef at King's Dock, which they can access through a secured side gate. There is also a promenade around the bay that offers residents a safe and direct pathway extending all the way to Labrador Park. It is something that those who enjoy a stroll through nature will appreciate.
Are you ready to embrace eco-luxury living and come home to a landmark every day? Discover an abode that stands at the forefront of luxury living today. Visit The Reef at King's Dock's website to take a virtual tour of the spacious units and learn more about the amenities it offers.